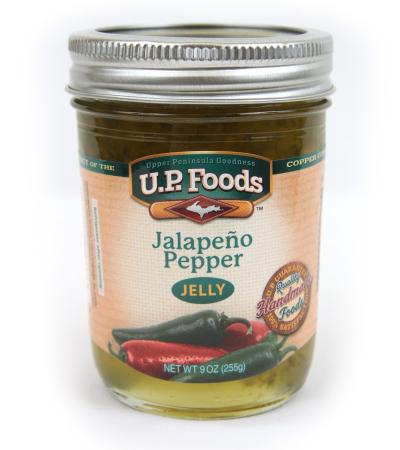 Jalapeno Pepper Jelly 9oz
Pepper Jelly is quickly becoming one of our most popular products for both the young and old alike. You taste the flavor of the peppers but not the burning hot feeling by eating a hot pepper.

Pepper Jelly can be served several ways. Many people just like it with cream cheese spread on your favorite cracker then topped with the pepper jelly. The combination is delightfully mild, not overly hot like you would expect. Yet you can taste the flavor of the peppers. Others love it as a glaze on pork or beef then baked to perfection.

Take a block of cream cheese and pour the Pepper Jelly over the top for the next party you have.

In order to maintain the full rich flavor, we do not add any fillers to our jam.
Price: $7.35
Our operations will be closed until May 1, 2020. We apologize for any inconvenience.

Sugar, Cider Vinegar, Jalapeno Peppers Pectin and Green Food Coloring.
Other Jams & Jellies