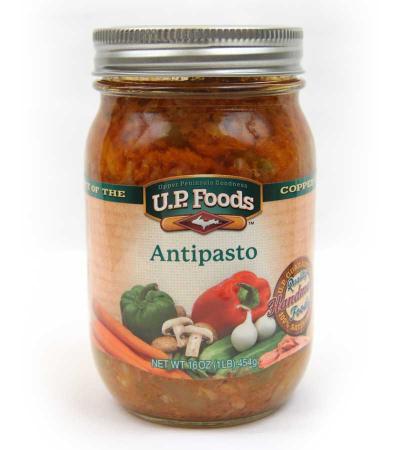 Antipasto 16oz
Our Antipasto is an old style, traditional Italian family treat. It's filled with your favorite vegetables, in a cider vinegar, oil and tomato-based sauce that is rich with a generous portion of tuna. Try some on your favorite crackers, you'll love it!
Price: $10.50
Our operations will be closed until May 1, 2023. We apologize for any inconvenience.

Tuna Fish (soybean oil / water vegetable broth), Sweet Pickles (cucumbers, high fructose corn syrup, vinegar, mustard seed, celery seed, salt, calcium chloride, polysorbate 80, yellow #5), Tomato Paste, Canola Oil, Onion, Carrots, Peppers, Green Beans, Mushrooms (calcium disodium edta), Spanish Olives (water, lactic acid, pimento, sodium potassium sorbate as a preservative, sodium alginate, guar gum), Celery, and Natural Flavoring and Spices.
Other Specialty Foods