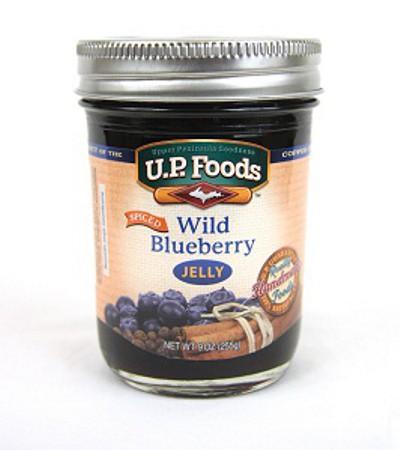 Spiced Wild Blueberry
Jelly 9 oz.
Our Spiced Wild Blueberry Jelly is made from handpicked wild blueberries found abundantly throughout the Copper Country. The spices add a mild flavor that complements the full natural flavor of the blueberries without any seeds. Blueberries have a naturally sweet flavor and are delightful on your favorite breads.

Wild blueberries are high in antioxidants which may help in reducing the risk of diseases such as inflammation and cancer. Blueberries can also lower your cholesterol which may help in reducing the chances of a stroke and may help to maintain the memory in adults.

In order to maintain the full rich flavor, we do not add any fillers to our jam.
Price: $7.35
Our operations will be closed until May 1, 2020. We apologize for any inconvenience.

Wild Blueberries, Sugar, Pectin, Lemon Juice, Cloves, Allspice and Cinnimon.
Other Jams & Jellies