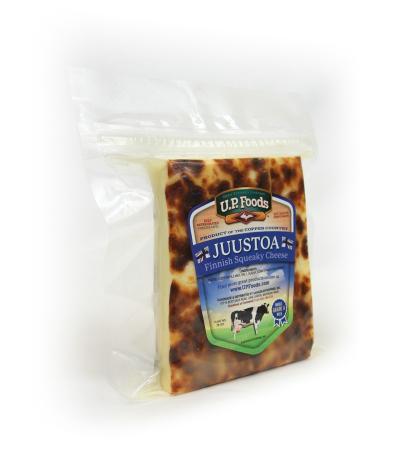 Juustoa -- Finnish Squeaky Cheese 16oz
Our Juustoa (Squeaky Cheese) is made the old-fashioned way, using only the freshest whole milk possible. The cheese is made in single batches much the same way it was made 100 years ago. Our cheese is made so its flavor and natural moisture is locked in by sealing in its freshness.

The price is $15.00 per lb. The cheese comes in various sizes so the final price will depend on the size of the block of cheese available at the time of shipping.

Larger cheese sizes are available upon request for your special events. Contact us for a price quote at 906-296-0725.

Call for pricing on larger distributor and business orders.

Note: We must ship our cheese utilizing foam shipping containers and either dry ice or gel-packs. Shipping rates will vary all over the country depending on the distance, seasonal climate and required shipping methods to your location. We ship using FedEx Overnight, FedEx 2nd day air, FedEx Express Saver or FedEx Ground utilizing the best, most reasonable method available. Please call us to determine the available methods for your area of the country. We will make every attempt to keep shipping cost as reasonable as possible.
Price: $16.50
Our operations will be closed until May 1, 2023. We apologize for any inconvenience.

Whole milk, salt, sugar, corn starch and rennet.
Other Cheese & Dairy